Our Replica Rings are Solid Heavy and Large with the Highest Quality White Stones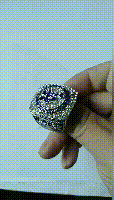 Box Color :  Beautiful High Gloss Cherry Finish Champion Display Box 
Metal : Alloy Heavy 18k Gold-Plating
Size: 8-14
To dear customers:
Our championship ring will be shipped from Asia. Because our factories are located in Asia. The total cost of production in Asia will be greatly reduced. We can give the best quality at the lowest price!
Don't trust sellers who say they ship from the US. They actually ship from Asia. But their price is twice ours!
Don't be fooled! Good things are worth the wait! I believe you will be my repeat customer!T hank you!!